Description
Caramel Crunch Bar[countdown

Remember those smooth creamy caramels that you had growing up? Well, we have brought back that taste that you've missed with our mouthwatering SINFIT® Caramel Double Layer Crunch Bar! With 30g of protein per serving, gluten free  if you like the feeling of having a cheat meal without cheating then this is your bar!!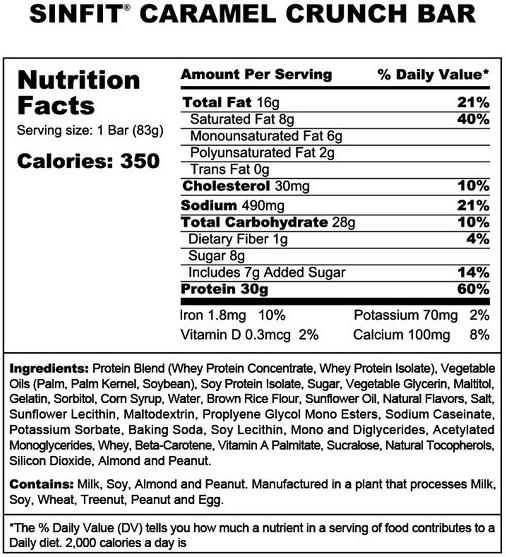 Chocolate Crunch Bar
There is no such thing as too much chocolate, and we prove it with our rich delicious SINFIT® Chocolate Crunch Double Layer Protein Bar! The crunchy combination of deep dark and milk chocolate with perfectly sized bits of protein crisps create a bar that is to die for. Gluten free, with 30 grams of protein, you just cannot go wrong with this one!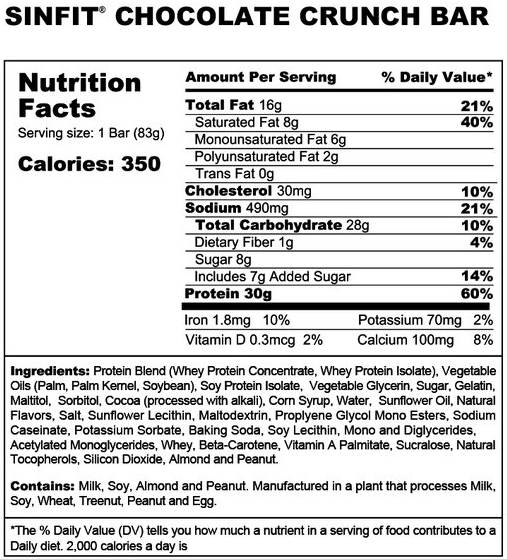 Peanut Butter Crunch Bar
Skip the dessert menu and satisfy your cravings with our amazing SINFIT® Peanut Butter Crunch Double Layer Protein Bar. Our creamy peanut butter bar mixed with the crunch of protein crisps is a perfect choice that fits your lifestyle. This is a connoisseurs dream come true, and not only does it taste amazing you get 30g of protein per serving and it is gluten free!