Description
TURN YOUR BODY INTO A LEAN, MEAN, FAT-BLASTING MACHINE!
THE LEGENDARY, ULTRA-CONCENTRATED THERMOGENIC RETURNS
May Experience: 
• WEIGHT LOSS
• INCREASED METABOLISM
• NONSTOP ENERGY & MENTAL CLARITY
• APPETITE SUPPORT
FAT BURNER & THERMOGENIC
YOU ASKED FOR IT, NOW YOU GOT IT!
ROXYLEAN IT'S BACK BY POPULAR DEMAND!
RoxyLean isn't your typical diet pill, it's a medi-biological, extremely concentrated, weight-loss supplement that supports your metabolism, promotes focus and enhances your mood for an overall well-being feeling.* Besides shredding fat by increasing thermogenesis, this powerful weight loss formula also helps promote a healthy appetite.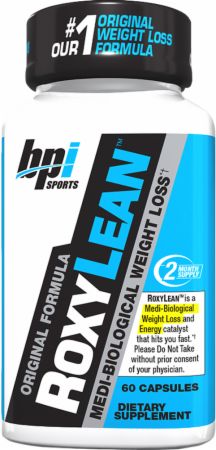 UNSTOPPABLE ENERGY, DAY IN, DAY OUT.
No need to worry about "jitters," RoxyLean™ is designed to provide a sustained energy release, turning your body into a fat-blasting machine. More energy means heavier lifting, more intense cardio sessions and longer workouts overall. It gets even better, RoxyLean™ also helps enhance mood, increase focus and mental clarity.
A WEIGHT LOSS PHENOMENON
Thanks to a synergistic and high-quality mix of ingredients, this one-capsule-a-day, powerful thermogenic also promotes a healthy appetite, especially when taking 30 minutes prior to mealtime.* With better appetite control, it's easier to manage your weight loss efforts and cravings.
THE ORIGINAL ROXYLEAN FORMULA.
GOLDENSEAL
This herb is a natural diuretic, eliminating water by promoting sweating and urination.
CAFFEINE
Caffeine is a staple ingredient in numerous fat burners since it's a stimulant that helps burn excess body fat through thermogenesis. In turn, your body temperature increases and so does your metabolism. With caffeine, your body burns calories faster and you can achieve more focus, for better performance.
YOHIMBE
This popular ingredient is well-known for its alpha-2 antagonist and CNS properties. It has been studied that using yohimbe before exercise may promote fat loss.
CITRUS LIMON
This natural diuretic may provide appetite support and decrease bloating, giving your weight loss efforts a boost.
WHITE WILLOW
This natural herb is believed to extend fat burning effects when combined with other ingredients, especially with thermogenic ingredients.